Aveek Sen, The Telegraph, December 10th, 2010
The enduring beauty of Raja Deen Dayal's photography goes beyond a merely historical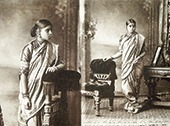 interest in colonial or patrician India, just as Holbein's art captivates a viewer who has no particular interest in Henry VIII and his court. There is a sharpness of detail in the Raja's photographs of Indian monuments and landscapes, a depth of presence in his portraits, and an exquisite melancholy in his general alignment to the worlds he depicts, somewhere between reverence and irony, that is reminiscent of a certain kind of elegiac art, like Piranesi's etchings of Roman ruins and fantastical prisons.
Deen Dayal (1844-1905) has found, posthumously, an archivist in the Indira Gandhi National Centre for the Arts in Delhi, and two dedicated curators in Jyotindra Jain and Pramod Kumar KG. Together, they have put up an appropriately exquisite show at the IGNCA in Delhi with digital prints made from a selection of glass-plate negatives in the Raja Deen Dayal & Sons Studio archives (of 2,857 such negatives, apart from vintage prints, studio registers, other documents and photographic equipment). This beautifully curated and mounted show (until February 28, 2011) is accompanied by a book, RAJA DEEN DAYAL: THE STUDIO ARCHIVES FROM THE IGNCA COLLECTION (IGNCA, Rs 600), that would enrich the collection of historians and lovers of art or books. It is considerably more than just a catalogue.
Deen Dayal's work, together with the work that came out of his studio after his death, is evidence of the fact that the best Indian practitioners had begun confounding the distinction between documentary and art photography long before Western modernism made a cult of such a blurring of boundaries. The photographs that Deen Dayal made while travelling with Sir Lepel Griffin of the Bengal Civil Service, or while enjoying the favour of the sixth Nizam of Hyderabad (who made him "Musawwir Jung Raja Bahadur" or Bold Warrior of Photography), or generally as photographer to Her Majesty, the Queen (Victoria), transcend the Western cult of the picturesque and of courtly or colonial patronage. "India is prodigal of subjects for the lens," wrote The Englishman from Calcutta in 1887, "and it may fairly be said that no artist has made more of his opportunities than Lala Deen Dayal." Artists who use photography in India today have to work harder than this to be regarded as makers of Art.
Left is a portrait of Sir Afzar Jung Bahadur, the A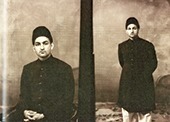 DC and commander of the Hyderabad army, along with his family made in the studio in September, 1902. Top right is the portrait of a lady made around 1890 through multiple exposures of a single glass plate, producing two images to a plate. Bottom right is a detail from the double portrait of Mir Barkat Ali Khan, the eighth and present Nizam of Hyderabad, made around 1954. It shows the continuing patronage that the studio received from the Nizam's family even after Hyderabad acceded to India in 1948 and the powers of the ruling princes were curtailed.