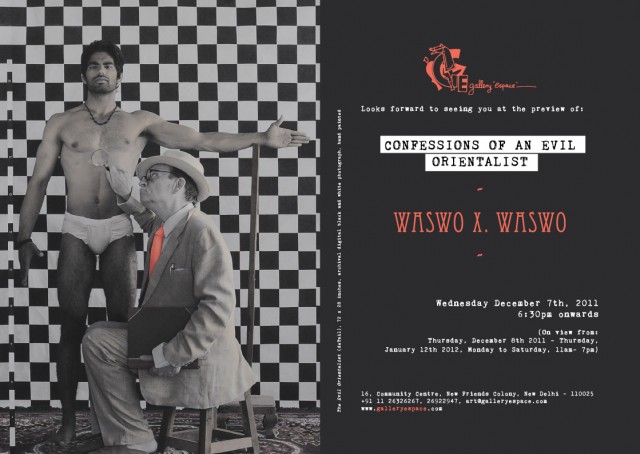 It gives us great pleasure to share with you the invitation for Confessions of an Evil Orientalist, Waswo X. Waswo's latest show at Gallery Espace, New Delhi. You may recall that we recently collaborated with him on "Tinted by Tradition, Waswo X. Waswo and Rajesh Soni: Hand Coloured Photographs at the City Palace, Udaipur", which opened last week at the Bhagwat Prakash Photo Gallery, City Palace Museum, Udaipur. This upcoming show both complements and expands on the work exhibited at Udaipur. We would be delighted if you can attend the preview on Wednesday, 7th December, 2011 at Gallery Espace, failing which the show is on till 12th January, 2012. "Tinted by Tradition" is on at Udaipur until 31st March, 2012.
Preview: Wednesday, December 7th 2011, 6:30 pm onwards
On View: Thursday, December 8th 2011 to Thursday, January 12th 2012
Timings: Monday- Saturday, 11am- 7pm
A Hanuman in laced-up boots, a goat at a picnic, a peshab at midnight- these are just a few of the new themes of American artist Waswo X. Waswo . Gallery Espace invites you to an exhibition of the works of Waswo along with his collaborators Rajesh Soni and R. Vijay, which are an exploration of the resounding influence of colonialism and perceptions of the foreign in modern India . Waswo's work is a humorous and satirical inquiry into popular stereotypes, and allows the viewer to observe and critique culturally-crafted notions of what is Indian and what is not. Central to his work is the character of the Evil Orientalist, along with whom the viewer embarks on a visual journey through colour-tinted photographs, miniature paintings and installations. His modern renditions of Rajasthani miniatures represent the chronicles of this traveller through the mystical, alien lands of India , while the photographs are perhaps documentation of the Orientalist's finds. Central to this exhibition are the Confessions of the Evil Orientalist, a list-poem of 101 statements concerning the thoughts and behaviours that the foreigner admits to indulging in during his travels. Through verbal and visual form, Waswo's art encourages the viewer to question cultural alienation and inherent demarcations of who belongs and who is an outsider.
About Waswo X. Waswo
Born in Milwaukee in the USA , the artist has lived and travelled in India for the past decade, and has settled in Udaipur , Rajasthan. There he collaborates with a variety of local artists, including the photo hand-colourist Rajesh Soni. He has also produced a series of autobiographical miniature paintings in collaboration with the artist R. Vijay. His works are thus infused with themes of Rajasthani life, often drawing from Indian mythology and popular culture.
Rajesh Soni specializes in hand-painting digital photographs, a skill passed down from his grandfather, the court photographer of Maharana Bhopal Singh of Mewar through the intermediary of his father Lalit Soni, an artist.
R. Vijay received training by traditional miniaturists and developed an eclectic mix of Persian, Mughal and Company styles of art. His works have drawn wide acclaim and praise from Indian critics.