Nothing reinvigorates a city like a new museum. The city of Kolkata which earlier used to boast for the rich collections stored in Indian Museum, Victoria Memorial Hall and Asiatic Society has yet another museum added to its list. Spread over an area of 7000 square feet in the New Town area of Kolkata, the Fanattic Sports Museum is the first multi-sport museum of the country. The museum has been curated by sports historian Boria Majumdar and displays rare artefacts related to sports.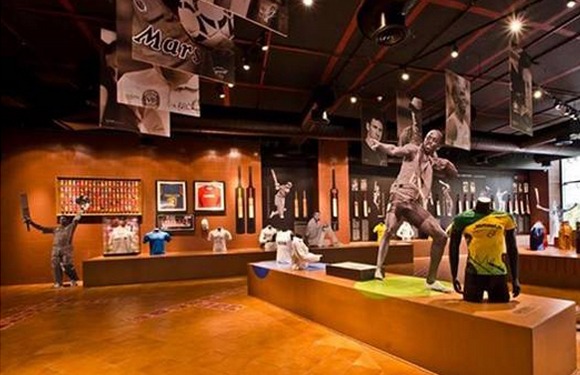 http://indiatoday.intoday.in/story/boria-majumdar-sports-museum-kolkata/1/869761.html
The collection comprises vast sports memorabilia collected over two decades by the curator, being inspired by the Lord's Museum, London. Designed by architect Vikram Rathore this museum brings much of the India's story in the field of sports in a way that hasn't been told before. Compared to other existing sports museum of the country the uniqueness of the museum lies in the fact that it does not restrict itself to any particular form of sport and displays collection ranging from cricket, badminton, hockey, football, golf to Olympian sports as well.
The collection comprises some of the rare artefacts like – the first ever sporting magazine published in India in 1837, the cancelled passport of Colonel C.K.Nayudu the first cricket captain of Indian cricket team, Mushtaq Ali's letter to C.K.Nayadu from England in 1946 mentioning the division within the Indian team and difficulties they faced, Brazilian footballer Pele's jersey from World Cup in 1970 and many more exciting objects that might serve as a treat for the sports enthusiasts.
To make the museum more interactive personal terminals have been installed where people can come and watch rare matches of their choice, read books and journals and buy sporting merchandise from across the world.
With more than 750 sports objects in display and the assurance to get more from the National Football Museum, London and the MCC Museum in Lord's, the Fanattic Sports Museum is soon going to be a sports lover's paradise.
http://fanatticsportsmuseum.com/
http://timesofindia.indiatimes.com/city/kolkata/in-a-first-india-gets-its-own-multi-sports-museum-at-new-town/articleshow/56787115.cms