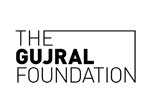 The Gujral Foundation is a non-profit trust that was set up in 2008, by Mohit and Feroze Gujral (the son and daughter-in-law of the renowned Indian Modern artist Satish Gujral). Over the past 12 years, the foundation has nurtured talent in the realms of art, architecture, culture and design in the Indian subcontinent and beyond. (Source Gujral Foundation website.) For more information on the Foundation visit https://gujralfoundation.org/
In 2016, Eka curated an exhibition titled A Brush with Life (20 January – 21 February 2016) celebrating the 90th birthday of the renowned artist Satish Gujral. The artworks from various collections were made available to mark this celebration.
In 2019, Eka once again curated another pioneering exhibition titled Property of a Gentleman, Stamps from the Nizam of Hyderabad's Dominions – featuring rare stamps from the Ewari family collection. Sponsored by the Gujral Foundation, the exhibition at Bikaner House (8th March-24 March 2019), displayed exquisitely calligraphed stamps and other related ephemera from this private collection.
In 2020, Eka has, again, been invited to set up a Museum and an Archive in the artist's name.