Pramod Kumar KG
Managing Director

Pramod Kumar KG the Managing Director of Eka was the founder director of the Anokhi Museum of Hand Printing at Amber, Jaipur, directed the Jaipur Virasat Foundation and instituted the Jaipur Literature Festival. He is currently co-director of Mountain Echoes, the Bhutan Literature Festival. He has lectured extensively across the world and is a published author with contributions in several books, journals and magazines. Until recently he was the editor from India of the Textiles Asia journal.
---
Deepthi Sasidharan
Director

Deepthi Sasidharan is an art historian and curator and her academic qualifications in museology provide a comprehensive approach to managing projects. She works on heritage and museum projects across India with the Government, private and corporate clients. Under her Eka has executed projects that have been path-breaking in India, including several museums, seminal exhibitions and the creation of archives like those for Kalakshetra in Chennai, City Palace in Udaipur and Tata Trusts in Mumbai.
She is currently the lead consultant for Moda Goa Museum, India's first costume museum in Goa and the Bastion Bungalow Project, Fort Kochi, Government of Kerala as well as a heritage project for the Mumbai Police. A Fulbright and Fundacao Oriente scholar, she has lectured and published extensively on 19th century photography and has worked on photography collections at IGNCA and IGMT, New Delhi, and Chowmahalla Palace, Hyderabad and several private collections. Deepthi lives in Mumbai and is the co-author of Indira – A Life of Courage (2017) and Treasures of the Deccan (2018) and teaches and lectures at several leading institutions.
---
Anita Jacob Koshy
Sr. Manager-Collection Management, Administration & Training

Anita's area of interest and professional practice lies in collection management – focusing primarily on museum documentation systems and collection care. She has worked on several private, public museum collections such as the Mahar Regiment (Indian Army), Collections focused on the artist Nicholas Roerich and private Royal Collections at Jaisalmer and Chowmahalla Palace, Hyderabad. In 2006, she was nominated to visit the United States on the US State Department's International Visitor's Leadership Program (IVLP) that facilitated her to officially visit premier public and private museums, cultural institutions across five states to study and observe their collection management systems and storage facilities.
Anita monitors projects associated with documenting art collections: managing them in accordance with international museum standards and practices. She also advises the management of collection databases once collections are digitised; through the formulation of procedural manuals and writing policy documents. She also plans, implements and custom trains Eka staff in two areas: documenting art collections and records management.
---
Ankita Chugh
Manager – Operations (Delhi)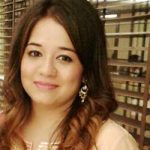 Ankita has a graduate degree in History from St. Stephen's College, University of Delhi, as well as a Masters in History, with a specialisation in Modern Indian History, from University of Delhi and a Masters in the History and Culture of Fashion from London College of Fashion, University of the Arts, London. Ankita has an interest in textile and costume history and is interested in the relationship between issues of clothing for men, masculinity and culture in 18th century colonial India. She also has a background in retail, research and analysis.
Ankita currently manages and administers multiple projects across North India and also overseas various aspects associated with research and curatorial responsibilities.
---
M. Ahmad Talib
Collections Manager

Talib has a Master's degree in Archaeology and Heritage Management. His area of interest lies in collection management, exhibition design and curating. He has travelled extensively to archaeological sites in Maharashtra and Madhya Pradesh in India and was part of an archaeological excavation of an Acheulian site under the ASI. He setup the Collection Management System Department, (TMS – The Museum System) a museum software solution that handles every facet of the City Palace Museum Collection, Udaipur.
He is presently handling diverse roles in Eka's museum projects across India and the Middle East.
---
Jerrin George
Conservation Architect

Jerrin George has a Bachelor's degree in Architecture from the National Institute of Technology, and a Masters in Architectural Conservation from the University of Edinburgh. She has worked on several conservation projects in Scotland and India. Jerrin has gathered experience through a wide range of projects including research, community development, building conservation, urban revitalization, conservation management planning, site interpretation and adaptive reuse of historic buildings. Her interest lies in the interaction between the existing built fabric and new introductions into the urban environment, and recognizes strategic adaptation of built environment as a sustainable approach to bringing a balance between the two. She also has a keen interest in exploring heritage as an expression of society and cultural place-making and the challenges and opportunities that lie in accommodating social context in heritage conservation.
Jerrin worked earlier on the Nepal Architecture Archives at Kathmandu in 2017 documenting and archiving the core collection, and now rejoins Eka on multiple architectural conservation related projects across India.
---
Leela Alexander
Office Administrator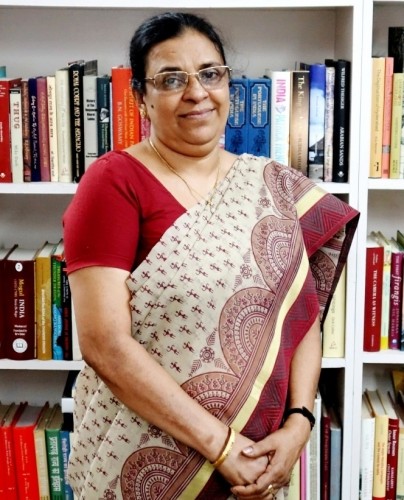 Mrs. Leela Alexander is a graduate of commerce from Kerala University. She has 18 years of experience in office administration and management. She has undergone co-operative training from the Thiruvalla East Co-operative Bank Ltd. With her accounting and co-ordination skills she is at the helm of all administrative activity at Eka.
---
Kanupriya Sharma
Project Lead

After finishing a Master's in History from Jawaharlal Nehru University, Kanupriya worked in outreach, marketing and communication roles at organisations such as WWF and DAG. Thereafter, her keen interest in art and heritage fuelled her decision to pursue another Master's programme in Museum and Gallery Studies from the University of St Andrews, Scotland. Simultaneously, she gathered experience at public museums in Scotland, in roles ranging from research, collections management, exhibition design, interpretation and education programming. Kanupriya now plans to create innovative strategies to formalise heritage processes and procedures in India. She additionally wants to focus on improving audience access to stored collections in museums, developing engaging exhibitions and delving into the domain of visitor assessment.
Kanupriya leads the archiving team at the Kiran Nadar Museum of Art (KNMA) project.
---
PRIYANKA N. SESHADRI
SENIOR ARCHIVIST

Priyanka is a museum professional with a specialisation in oral history and family collections. She has studied history at St. Stephen's College, University of Oxford, and Jawaharlal Nehru University. She has previously worked at the Centre for Public History (Srishti Manipal Institute of Design), the Centre for Community Knowledge (Ambedkar University Delhi) and as Curatorial Associate at the Partition Museum, Amritsar. She has extensive experience in exhibition curation, collections management, and museum development. Over the years, she has worked at building oral history collections for museums and developing community-oriented collections. She was involved in building an oral history archive for the Indian Museum, Kolkata, and in expanding the Partition Museum's collection of material artefacts and oral histories. She also led the Partition Museum's first international exhibition co-curated with Manchester Museum. She aims to bring public engagement into every facet of a museum's work – including the conception and building of its collections.
---
AYUSHI CHAURASIA
ARCHIVIST

Ayushi Chaurasia graduated as a Young India Fellow (class of 2019) from Ashoka University. Her experiences lie at an intersection of art, heritage and culture. Previously she has archived for Sahapedia as well. She takes deep interest in architecture and urban-scapes and has conducted heritage walks around the city of Old and New Delhi, forming a narrative around architectural details and historical facts. Ayushi moonlights as a collage artist. She works with both analog and digital mediums of collaging. Her artworks tread on the path of decoding architecture, iconography and symbols while taking heavy inspiration from the Buddhist mono-scenic and synoptic narrative styles.
In the future, she hopes to create an archive of audiobooks in vernacular languages by South Asian authors.
---
Abhiruchi Oke
Senior Archivist

Abhiruchi completed her graduation in History and pursued a Master's of Arts Programme from Deccan College Post-Graduate and Research Institute, Pune in Archaeology and Ancient Indian History and Culture. As an archaeology student she had the opportunity to participate in various excavations in Chandore, Rakhighari and Nagardhan.
After her Master's degree she acquired a Post-Graduate Diploma in Museology and Conservation from CSMVS, Mumbai. While pursuing this course she worked as a Collections Manager on the Sarmaya Project (private collection) during which she extensively worked on coins.
She has currently cleared her Ph.D. entrance exam at Mumbai University. Abhiruchi's areas of interest range from Art, Architecture, Iconography to Archiving and Museology as well.
---
Rushal V. Unkule
Collections Manager

Rushal pursued a MA in Archaeology and Ancient Indian History and Culture (AIHC) after having completed his graduation in Chemistry. He recently completed his M. Phil in Archaeology in which he focussed on the study of human skeletal remains from the Megalithic sites of Mahurjhari, Vidarbha (Maharashtra). He also participated in several archaeological excavations at Rakhigarhi (Haryana), Talapada (Odisha), Nagardhan (Maharashtra), and Math-Pimpri (Maharashtra). He also was part of the Pollavaram Salvage Archaeology Project initiated by the Andhra Pradesh Government to safeguard the archaeological sites and temples of the state that were threatened by submersion.
He has also published three of his research papers in reputed journals like 'Heritage Journal of Multidisciplinary studies in Archaeology' and 'Indian Society for Prehistoric and Quaternary Studies (ISPQS) Man and Environment' .
---
Tsering Chosdol
Archivist

Tsering graduated in Buddhist Philosophy and also pursued an Acharya Degree (equivalent to a Master's degree) in the same field from the Central Institute of Higher Tibetan Studies, Sarnath, Varanasi. She also holds a Diploma in Heritage Site Management and Scientific Conservation from Deccan College Post-Graduate and Research Institute, Pune- a degree offered in collaboration with INTACH, NRLC and the National Museum Institute (National Museum, New Delhi).
Tsering is currently pursuing an MPhil in Archaeology and Ancient Indian History and Culture (AIHC) at the Deccan College Post-Graduate and Research Institute Pune. Her research is focused on "A comparative Study of the Development of Stupa Architecture in Ladakh". As a student of archaeology, she has also participated in various excavations, including one held in Nagardhan in 2018.
Tsering's interests lie in archaeology of Buddhism, heritage site management and conservation, as well as Buddhist philosophy.
---
ABHAY BHALLA
Research Associate

Abhay is a graduate from Ambedkar University Delhi in Social Sciences and Humanities with majors in History, Political Science and English literature. He has recently completed his Masters in South Asian Studies majoring in History, Art History and Visual Culture from the South Asia Institute, Heidelberg University, Germany. His Master's thesis was a research project titled '(Re)-locating the Start of Indian Contemporary Art', exploring the period between 1980s to early 2000s in an attempt to re-conceptualise the emergence of contemporary art in India. He attempts to bring together the un-accounted elements to the existing canonised history proposing a more holistic approach for understanding the period. He has a keen interest in literature, photography, art theory, art history and philosophy.
---
Aishwarya A. Kirit
Archivist

Currently based in Bengaluru, Aishwarya is in the process of getting her Masters in Museum Studies from the National Museum Institute, New Delhi. In an attempt to draw attention to the museum visitor, who often gets ignored in the larger scheme of museum planning, her dissertation was an autoethnographic account of museum visits in New Delhi. She also holds a degree in Communication Studies from Mount Carmel College, Bengaluru. She has been a journalist, an RJ and a translator before she found her place amongst the antiquated statues.
At the National Museum, she interned with the exhibition department for the duration of the 'India and the World' exhibition before she went on to work with an art gallery in New Delhi. While at the gallery, she was involved in the setting up of exhibitions, the publications of books along with the various museum projects.
---
Sameer
Officer Administrator Assistant

Sameer began his journey as a Studio Assistant at Printer's Devil, a Delhi-based printmaking studio. With Printer's Devil, he has gained an exposure in the field of arts and cultural heritage while working on a wide range of photographs and negatives owned by various cultural institutions. He was trained by Mr. Ishan Tankha, a renowned photographer and has assisted him in several exhibitions. He also has experience of working in documentary cinema. He has been working as a commercial photographer and is now interested in working with heritage collections. Being an avid traveller, he also has a keen interest in travel photography.
Utkarsha S. Thakur
Junior Archivist

Utkarsha pursued a MA degree in Ancient Indian History Culture and Archaeology from St. Xavier's College, Mumbai after completing her graduation in History. She has done a Diploma in Cyber Law from Government Law College, Mumbai. She has recently cleared her Ph.D entrance exam at Mumbai University & is simultaneously pursuing her degree, Bachelors in Education (B.Ed). Her article 'Mailgad Fort: Pride of the Nawabs' has been published by "Live History India". Utkarsha's interests are in Indian mythology, conservation, archiving & museology.