Client:  Jaigarh Public Charitable Trust, Jaipur
June 2013 – February 2014
The Royal Guard Gallery opened on 23rd February 2014 at Jaigarh Fort, Jaipur India. It was inaugurated by J. Paul Getty Trust president and CEO James Cuno along with Diya Kumari of the erstwhile royal family.
WAR & PEACE: The Military & Diplomatic Careers of H. H. Maharaja Sawai Man Singh II & H. H. Maharaja Sawai Bhawani Singh of Jaipur
This exhibition offers a rare glimpse into the distinguished military and diplomatic careers of the last two ruling Maharajas of Jaipur, H. H. Maharaja Sawai Man singh II (1911-70) and H. H. Maharaja Sawai Bhawani Singh (1931-2011).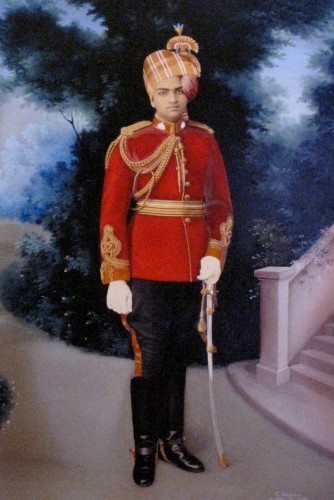 Maharaja Sawai Man Singh II's training at the Royal Military Academy in Woolwich (England) from 1929-30 was to prove a great influence as he spent the early years of his reign bringing the Jaipur State Forces to a state of high efficiency and preparedness for combat. During the Second World War (1939-45), he saw active service at the North West Frontier with the 13th Lancers and in West Asia with the Household Cavalry. He was subsequently appointed liaison officer for the Indian State Forces, a job he was particularly suited for with his diplomatic prowess and powers of persuasion. During his tenure as India's first Ambassador to Spain (1965-68) he went on to advise the nation on acquiring modern military technology and arms.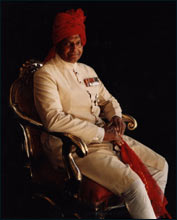 Maharaja Sawai Bhawani Singh took command of the 10th Parachute Regiment of the Indian Army in 1968 and saw action in the 1971 Indo-Pak war. While commanding 10 Para Special Forces he led his battalion, infiltrating deep inside enemy territory, and for four days carried out lightening raids on enemy posts at Chachro and Virawah. For his inspired leadership and personal courage he was awarded the Mahavir Chakra and was subsequently promoted to the honorary rank of Brigadier. After his retirement from active service, Brigadier Singh continued with his role as titular head of the Kachwaha Rajputs and was appointed India's high Commissioner to Brunei (1994-97).
Our role
As part of the eventual renovation of displays at Jaigarh, Eka was asked to create a new display within the Royal Guards' Gallery. Working with exhibition designers, we curated a show titled 'War & Peace: The Military and Diplomatic careers of Maharaja Sawai Man Singh II and Maharaja Sawai Bhawani Singh'. It showcased photographs from the Trust as well as Private collections, and original garments belonging to the Maharajas of Jaipur, which we worked with conservators to restore.
IMAGES